Joseph Pilates and the Physical Culture Movement
Pilates gave us his wonderful method of physical and mental conditioning, however some of his ideas were informed by the times and the Physical Culture Movement represents those times.
This online course is for Pilates teachers who have an interest in exercise history and how this history influenced Joseph Pilates.
The workshop presents a summary of the Physical Culture Movement and explores Pilates journey through the Movement.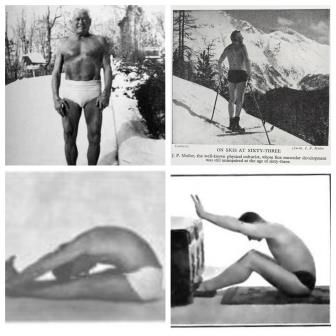 'Expand your Pilates knowledge in to the realms of Physical Culture!'
Do you teach Pilates or the Physical Culture of Pilates? because there's a difference...
During the Physical Culture Movement of late 1800's and early 1900's various Physical Culturists created exercise systems and promoted ideas about topics such as culture, hygiene, time in nature and mind-body. When we explore Joseph Pilates movements and his writing it becomes apparent he was exposed to thinking derived from Physical Culture. Joseph Pilates and the Physical Culture Movement is an online Professional Development course that has been developed to help Pilates teachers understand Pilates relationship with Physical culture. Here's how:
Online lessons allowing you the convenience to learn at times that are suitable for your schedule.
We encourage you to explore beyond Pilates exercises and apparatus, and look at the Physical Culture of Pilates.
We provide a learning environment where you are encouraged to develop a new idea that serves your clients.
Access to an online forum where you are encouraged to share what you have learned with your colleagues.
COURSE PRESENTER | WARWICK MALONEY
Hi, I'm Warwick… creator of the course, Joseph Pilates and the Physical Culture Movement. As an Exercise Physiologist, Pilates Teacher and Remedial Massage Therapist I have developed an obscure interest in the shared origin of these disciplines within the Physical Culture Movement of the late 1800's-early 1900's. I enjoy writing about Physical Culture on the Movement Health blog and in 2019 I presented at the Pilates Alliance national conference on the topic of Physical Culture and Pilates. I look forward to supporting your learning and helping you develop a deeper appreciation for the Pilates method.
6 hours of quality online professional development for an investment of A$250!
Access all course content for 12 months.
Learn at your own pace.
High quality online professional development.
Blended learning includes video and written resources.
Integrated social learning network.
Create something meaningful for your Pilates practice.
Created with